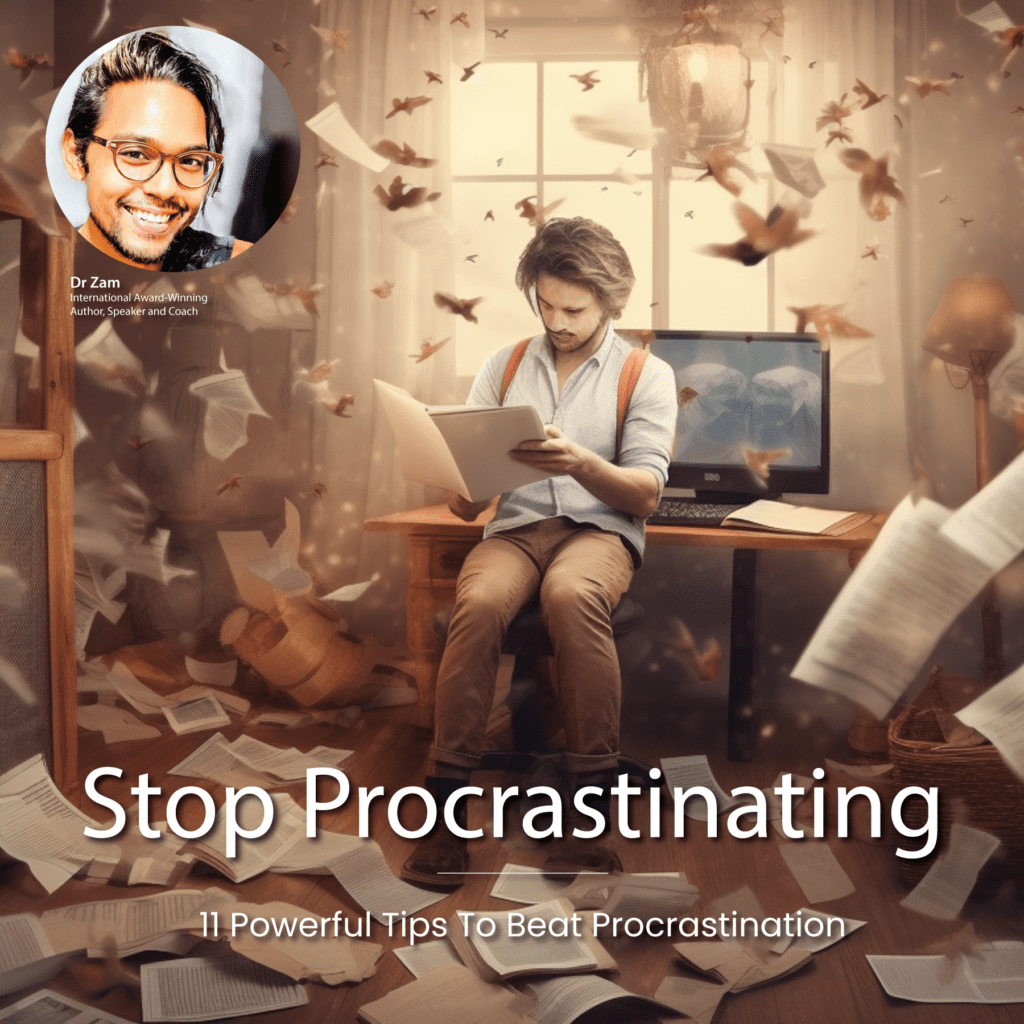 Stop procrastinating! Easier said than done. Here are Dr Zam's 11 powerful tips to beat procrastination.
Break Down Your Tasks: Large tasks can often seem daunting which leads to procrastination. By breaking them into smaller, manageable tasks, you can make it easier to start and continue working on them.
Prioritize Your Tasks: Not all tasks are of equal importance. Try to prioritize your tasks based on their urgency and significance. This will help you focus on completing the essential tasks first.
Eliminate Distractions: One of the significant reasons for procrastination is distraction, especially from smartphones, social media, or other internet diversions. Designate a specific workspace, and limit the use of electronics to work-related activities during work periods.
Use Tools and Apps: There are various productivity apps available that can help facilitate focus and productivity. These apps have features like timers, reminders, and task-lists to assist in staying on task.
Time Management: Implement methods like the Pomodoro Technique (working for, say, 25 minutes, then taking a 5-minute break), time blocking etc., to better manage your work and break times.
Establish a Routine: Having a consistent daily routine can improve your efficiency and make it easier to start working.
Practice Mindfulness and Stress Management: Procrastination can exacerbate stress and anxiety. Learn to manage stress through strategies like meditation, exercise, or talking things out with friends or a counselor.
Set Deadlines: Self-imposed deadlines create a sense of urgency, which can motivate you to get started.
Find your Peak Time: Everyone has a certain time of the day when they are most productive. Try to schedule your most important tasks for this time.
Reward/Punishment System: Reward yourself with a break, treat, or something else enjoyable when you complete a task. Alternatively, you can set up a punishment for not completing work, like denying yourself a treat or fun activity.
Stay Positive: Keep a positive attitude toward your work and abilities. Remember, it's okay to ask for help if you need it, and it's okay to take breaks when you're feeling overwhelmed.
Remember, overcoming procrastination is a gradual process. With conscious effort and consistency, you can make huge strides in combating procrastination.