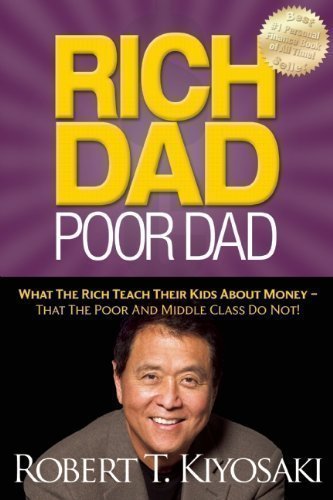 "Rich Dad, Poor Dad", a seminal work by Robert Kiyosaki, has revolutionized the way we perceive wealth creation and personal finance. The book, through its compelling narrative and unconventional wisdom, challenges the traditional beliefs about money, work, and education. It is structured around the contrasting financial philosophies of two influential figures in Kiyosaki's life – his own father, the 'Poor Dad', and his friend's father, the 'Rich Dad'.
The 'Poor Dad', despite being highly educated and holding a secure government job, struggled financially. He represents the conventional approach to wealth: obtaining a good education, securing a stable job, and saving for retirement. In stark contrast, the 'Rich Dad', a successful entrepreneur with little formal education, imparts lessons on building and growing wealth by investing in assets such as real estate, businesses, and stocks, thereby creating a steady cash flow independent of a traditional job.
The Importance of Financial Education
One of the central themes of "Rich Dad, Poor Dad" is the importance of financial education. Kiyosaki argues that the traditional education system inadequately prepares students to manage money and build wealth, as it does not teach practical financial skills. He emphasizes the need to understand key financial concepts such as assets, liabilities, income, and expenses, and encourages readers to continuously seek knowledge and learn from practical experiences.
Assets vs. Liabilities
Kiyosaki introduces the concept of assets and liabilities in a simple yet powerful way. He states that the rich focus on acquiring assets – things that put money into their pockets, like businesses, real estate, or stocks. The poor, on the other hand, accumulate liabilities – things that take money out of their pockets, such as mortgages, car payments, or credit card debt, often mistaking them for assets.
The Cashflow Quadrant
The book also introduces the 'Cashflow Quadrant', a tool that categorizes people into four types based on how they make their money: Employees (E), Self-Employed (S), Business Owners (B), and Investors (I). Kiyosaki suggests that to achieve financial independence, one should aim to transition from the E and S side, where you trade time for money, to the B and I side, where your money works for you.
Mindset and Attitude Towards Money
Kiyosaki underscores the importance of having the right mindset and attitude towards money. He believes that fear and cynicism are the biggest obstacles to financial success. The rich are willing to take calculated risks and learn from their failures, while the poor let fear of failure and loss prevent them from seizing opportunities.
The Power of Corporations
The book also discusses the benefits of owning a corporation as a strategy for wealth creation and tax efficiency. Kiyosaki explains that corporations earn, spend, and then pay taxes, while individuals earn, pay taxes, and then spend what's left.
Work to Learn, Not to Earn
Kiyosaki advises readers to seek jobs for the learning opportunities and not merely the paycheck. He believes that varied work experiences can teach valuable skills that can be used to build wealth in the future.
The Importance of Giving
Despite the book's focus on wealth accumulation, Kiyosaki also emphasizes the importance of giving. He believes that giving back to society and helping others is a key part of financial success.
In conclusion, "Rich Dad, Poor Dad" encourages readers to think differently about money and wealth. It advocates for financial independence through investment, entrepreneurship, and financial intelligence. However, it's important to remember that while the book provides valuable insights, it is not a step-by-step guide to wealth creation. Each reader must take the principles and apply them in a way that suits their individual financial context and goals.