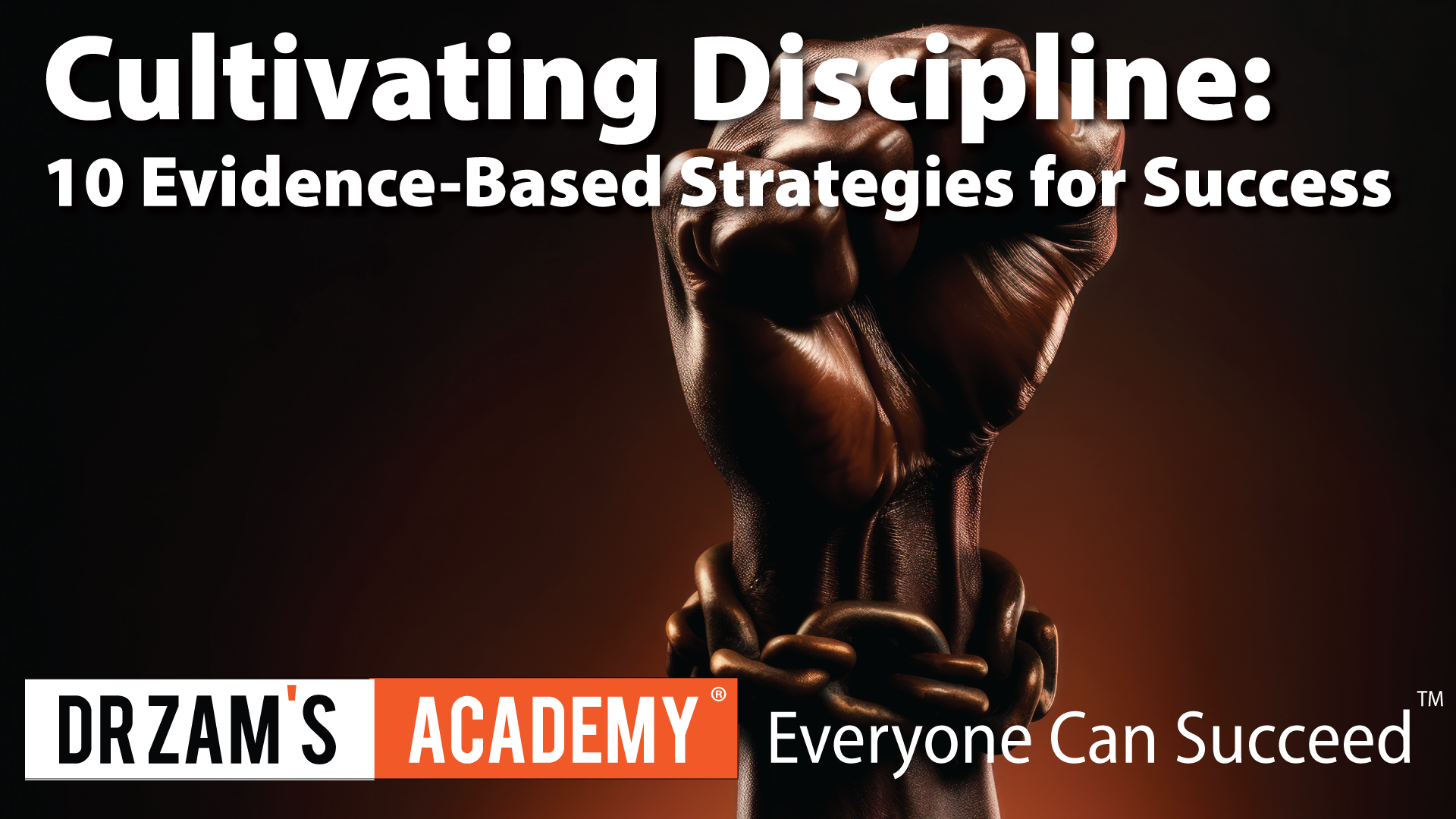 At Dr Zam's Academy®, we embrace the philosophy that "Everyone Can Succeed™." Success is within reach for all, but it requires discipline, a quality that can be nurtured and honed. Here are 10 evidence-based strategies to cultivate discipline, guiding you on a path to excellence.
1. Setting Clear Goals
Research Evidence: Clear goals lead to higher performance. Practical Tips: Write down SMART goals, review them regularly, and adjust as needed. Clarity in purpose sets the foundation for success.
2. Developing a Routine
Research Evidence: Consistency forms habits. Practical Tips: Plan and adhere to a daily routine. Consistency breeds success, and a well-structured routine is the backbone of discipline.
3. Utilizing Positive Reinforcement
Research Evidence: Positive reinforcement encourages desired behavior. Practical Tips: Reward yourself, use affirmations, and surround yourself with positivity. These practices reinforce discipline, making it a joyful pursuit.
4. Mindfulness and Self-Control
Research Evidence: Mindfulness enhances self-control. Practical Tips: Engage in daily meditation and manage triggers. Mindfulness fosters a disciplined mind, allowing you to stay focused on your goals.
5. Accountability and Social Support
Research Evidence: Accountability boosts adherence to goals. Practical Tips: Find support and regularly update your progress. Accountability turns solitary pursuits into shared journeys, strengthening your resolve.
6. Physical Fitness
Research Evidence: Exercise improves mental discipline. Practical Tips: Set fitness goals and monitor your well-being. A healthy body houses a disciplined mind, enhancing overall performance.
7. Continuous Learning
Research Evidence: Learning fosters growth. Practical Tips: Read, attend workshops, and improve your skills. Continuous learning keeps you adaptable and disciplined in an ever-changing world.
8. Avoiding Procrastination
Research Evidence: Procrastination hinders success. Practical Tips: Break tasks into parts and set deadlines. Overcoming procrastination is a triumph of discipline over delay.
9. Embracing Failure
Research Evidence: Failure leads to resilience. Practical Tips: Analyze failures, learn from them, and move forward. Embracing failure turns setbacks into setups for future success.
10. Living a Balanced Life
Research Evidence: Balance enhances well-being. Practical Tips: Prioritize time and engage in enjoyable activities. Balance is the harmony of discipline, enriching both professional and personal life.
Conclusion
Discipline is a journey, a continuous process of growth and refinement. These 10 strategies are not mere guidelines; they are a roadmap, a way of life. At Dr Zam's Academy®, we are committed to helping you on this journey, for we believe that "Everyone Can Succeed™."
Embrace these strategies, and watch how discipline transforms your life, unlocking doors to success in every endeavor. Whether in business, education, fitness, or personal growth, discipline is the key, and with it, everyone can indeed succeed.
References
Locke, E. A., & Latham, G. P. (2002). Building a practically useful theory of goal setting and task motivation: A 35-year odyssey. American Psychologist, 57(9), 705-717.

Cited in "Setting Clear Goals."

Lally, P., Van Jaarsveld, C. H. M., Potts, H. W. W., & Wardle, J. (2010). How are habits formed: Modelling habit formation in the real world. European Journal of Social Psychology, 40(6), 998-1009.

Cited in "Developing a Routine."

Skinner, B. F. (1953). Science and Human Behavior. The Free Press.

Cited in "Utilizing Positive Reinforcement."

Ostafin, B. D., Bauer, C., & Myxter, P. (2012). Mindfulness decouples the relation between automatic alcohol motivation and heavy drinking. Journal of Social and Clinical Psychology, 31(7), 729-745.

Cited in "Mindfulness and Self-Control."

Bandura, A. (1977). Self-efficacy: Toward a unifying theory of behavioral change. Psychological Review, 84(2), 191-215.

Cited in "Accountability and Social Support."

Ratey, J. J., & Loehr, J. E. (2011). The positive impact of physical activity on cognition during adulthood: A review of underlying mechanisms, evidence, and recommendations. Reviews in the Neurosciences, 22(2), 171-185.

Cited in "Physical Fitness."

Dweck, C. S. (2006). Mindset: The new psychology of success. Random House.

Cited in "Continuous Learning."

Steel, P. (2007). The nature of procrastination: A meta-analytic and theoretical review of quintessential self-regulatory failure. Psychological Bulletin, 133(1), 65-94.

Cited in "Avoiding Procrastination."

Seligman, M. E. P., & Csikszentmihalyi, M. (2000). Positive psychology: An introduction. American Psychologist, 55(1), 5-14.

Cited in "Embracing Failure."

Greenhaus, J. H., & Allen, T. D. (2011). Work–family balance: A review and extension of the literature. In Handbook of Occupational Health Psychology (pp. 165-183). American Psychological Association.

Cited in "Living a Balanced Life."