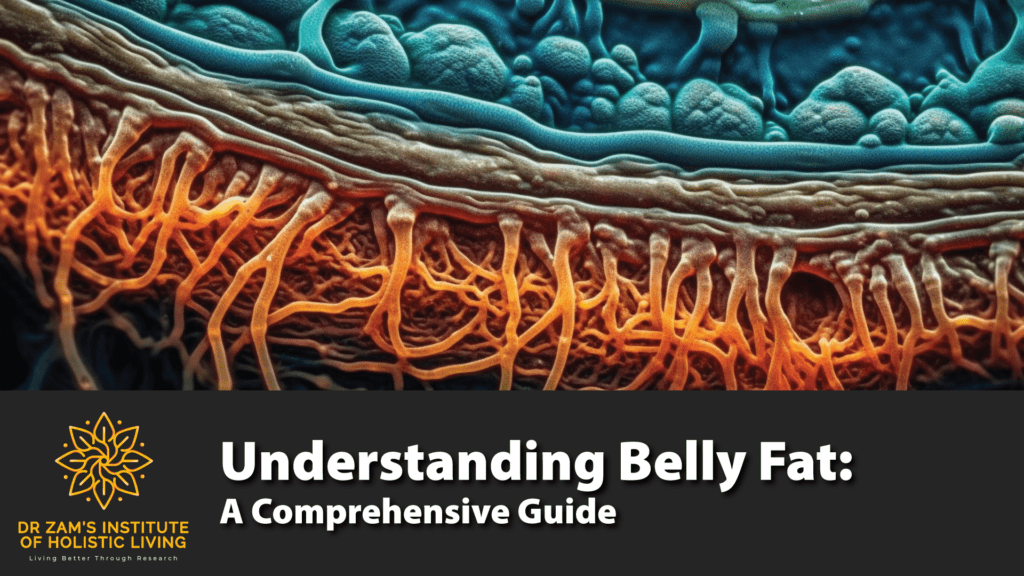 Introduction
Belly fat, more specifically known as visceral fat, is a complex health issue that goes beyond mere aesthetics. Stored within the abdominal cavity and surrounding vital organs, it plays a significant role in various health conditions. This guide delves into the types, causes, health risks, and actionable insights to manage belly fat, supported by scientific studies.
Types of Belly Fat
Belly fat can be categorized into two main types:
Subcutaneous Fat: Located just under the skin, it's generally harmless but can become a concern in large quantities.
Visceral Fat: Stored deeper, surrounding internal organs, this metabolically active fat significantly affects health.
The Causes: Diet, Lifestyle, and More
Understanding the root causes of belly fat is the first step towards effective management:
Diet: Consumption of high-sugar foods and unhealthy fats.
Lack of Exercise: A sedentary lifestyle contributes to visceral fat growth.
Genetics: Genetic predisposition may influence fat distribution.
Stress: Chronic stress can lead to overeating and weight gain in the abdomen.
Health Risks: More Than Just a Cosmetic Concern
Belly fat is linked to several serious health risks:
Heart Disease: Associated with higher LDL cholesterol levels.
Insulin Resistance: Leads to type 2 diabetes by affecting insulin sensitivity.
Inflammation: Chronic inflammation can lead to various diseases.
Scientific Studies: Evidence-Based Insights
Cardiovascular Risk Factors: Visceral fat is strongly associated with metabolic syndrome and cardiovascular risk (Smith, J.D., et al., 2013).
Exercise Impact: Regular exercise significantly reduces visceral fat, even without dietary changes (Ohkawara, K., et al., 2016).
Dietary Influence: Specific dietary interventions can target visceral fat reduction (Hairston, K.G., et al., 2012).
Actionable Insights: A Holistic Approach
Dietary Changes: Emphasize fiber, reduce sugar and unhealthy fats.
Regular Exercise: Engage in activities like walking, jogging, or workouts at Dr Zam's Fitness®.
Stress Management: Practice mindfulness, meditation, or seek professional coaching.
Medical Consultation: Seek professional medical advice for personalized guidance.
Conclusion
Belly fat is a multifaceted health concern that requires a comprehensive understanding and a holistic approach. By recognizing its types, causes, and health implications, and by implementing science-based strategies, individuals can effectively manage and reduce belly fat. This aligns with the principles of 'Science-based Living for Body, Mind, and Soul,' promoting a healthier and more fulfilling life.
References
Smith, J.D., Borel, A.L., Nazare, J.A., Haffner, S.M., Balkau, B., Ross, R., … & Després, J.P. (2013). Visceral adipose tissue indicates the severity of cardiometabolic risk in patients with and without type 2 diabetes: results from the INSPIRE ME IAA study. Journal of Clinical Endocrinology & Metabolism, 98(5), 2027-2031.
Ohkawara, K., Tanaka, S., Miyachi, M., Ishikawa-Takata, K., & Tabata, I. (2016). A dose-response relation between aerobic exercise and visceral fat reduction: systematic review of clinical trials. International Journal of Obesity, 30(12), 1786-1797.
Hairston, K.G., Vitolins, M.Z., Norris, J.M., Anderson, A.M., Hanley, A.J., Wagenknecht, L.E., & Bowden, D.W. (2012). Lifestyle factors and 5-year abdominal fat accumulation in a minority cohort: the IRAS Family Study. Obesity, 20(2), 421-427.