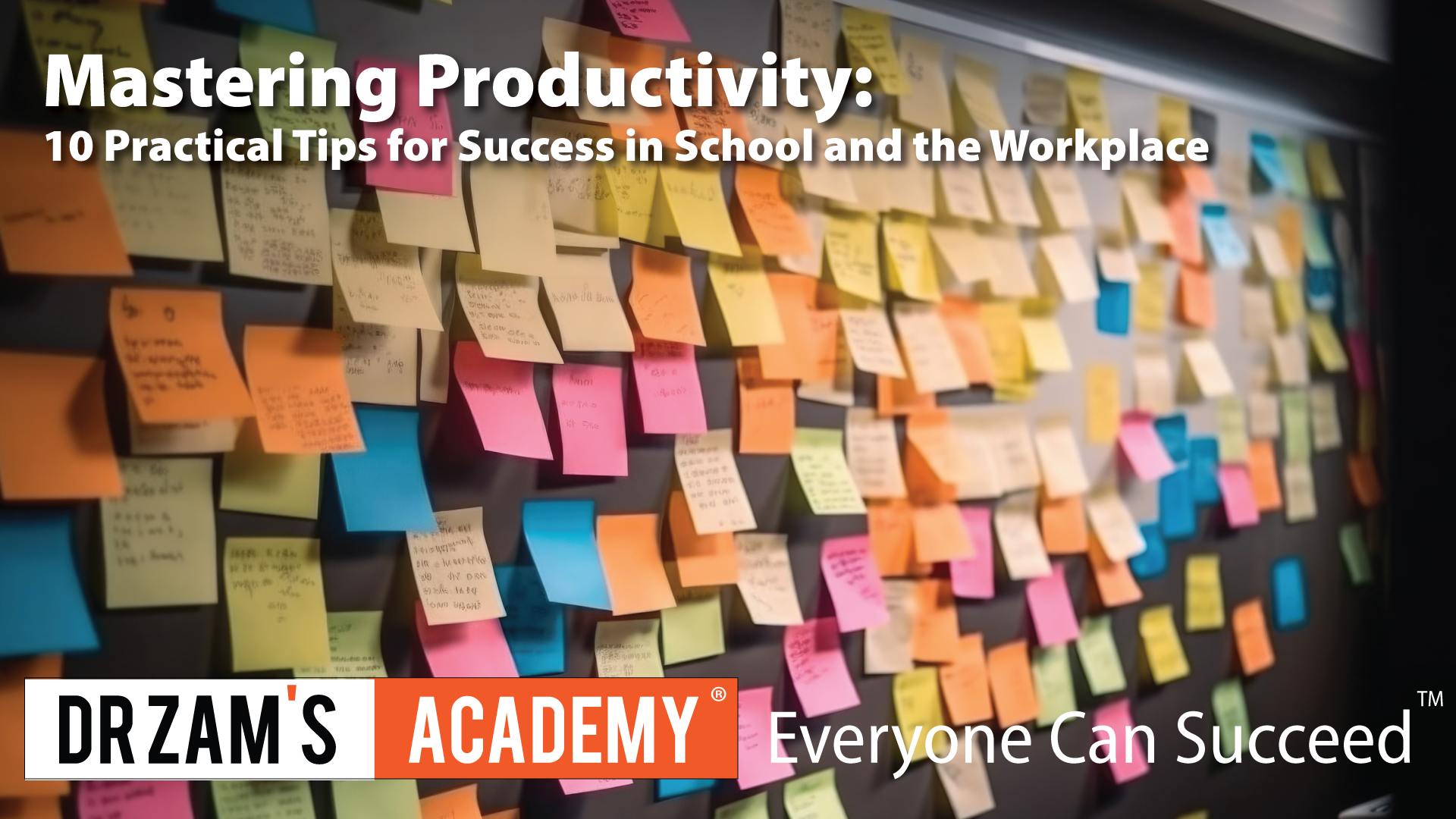 In the fast-paced world of today, productivity is a key skill that can make the difference between success and mediocrity. Whether you're a student striving for academic excellence or a professional aiming to climb the corporate ladder, mastering productivity can help you reach your goals more efficiently. Here are ten practical tips to enhance your productivity in school or at the workplace.
1. Set Clear Goals
The journey towards productivity begins with setting clear and measurable goals. Goals serve as your compass, guiding your actions and decisions towards a specific destination. They provide a sense of direction and purpose, helping you stay focused amidst the chaos of daily life. So, take some time to reflect on what you want to achieve and set SMART (Specific, Measurable, Achievable, Relevant, Time-bound) goals.
2. Prioritize Tasks
Once you have your goals in place, the next step is to prioritize your tasks. Not all tasks contribute equally to your goals. Some tasks have a higher impact than others. Use a system like the Eisenhower Matrix to categorize your tasks based on their urgency and importance. This will help you focus on high-impact tasks and avoid wasting time on low-value activities.
3. Time Management
Effective time management is a cornerstone of productivity. Techniques like time blocking or the Pomodoro Technique can help you manage your time more effectively. These techniques encourage focused work periods followed by short breaks, boosting productivity and preventing burnout. Remember, time is a non-renewable resource. Use it wisely.
4. Eliminate Distractions
In our hyper-connected world, distractions are just a click away. But to be productive, you need to create a distraction-free environment. Use tools and apps to block distracting websites and notifications during your work periods. Create a quiet, clutter-free workspace that encourages focus and concentration.
5. Practice Mindfulness
Mindfulness is the practice of being fully present and engaged in the current moment. It can improve your focus, reduce stress, and enhance your emotional intelligence. Incorporate mindfulness exercises into your daily routine, such as mindful breathing or meditation. These practices can help you stay focused and calm, even in the face of challenges.
6. Stay Organized
A cluttered workspace or a disorganized schedule can be a major productivity killer. Keep your workspace and your digital files organized. Use tools like Google Drive, Dropbox, or Evernote to store and organize your files. Use a digital or physical planner to keep track of your tasks and deadlines. An organized environment leads to an organized mind.
7. Take Care of Your Health
Your physical health has a direct impact on your productivity. Regular exercise, a balanced diet, and adequate sleep can improve your energy levels, mood, and cognitive functions. So, make sure to take care of your health. After all, a healthy body houses a productive mind.
8. Continuous Learning
In the ever-evolving world of today, continuous learning is a must. Always be open to learning new skills and knowledge. This not only makes you more versatile and valuable but also keeps your brain active and engaged. Remember, a learning mind is a productive mind.
9. Effective Communication
Clear and effective communication can save you a lot of time and energy. It can prevent misunderstandings and conflicts that can derail your productivity. Practice active listening and assertive communication. Effective communication is a two-way street. It's not just about expressing your ideas clearly, but also about understanding others effectively.
10. Take Breaks
Productivity is not about working non-stop. It's about working smart. And part of working smart is knowing when to take a break. Regular breaks can boost your productivity and creativity. Use your breaks to relax, stretch, or do something you enjoy. Remember, rest is not a waste of time. It's a productivity booster.
In conclusion, productivity is a skill that can be learned and improved. By implementing these practical tips, you can enhance your productivity and achieve your goals more efficiently. Remember, productivity is a journey, not a destination. So, keep learning, keep improving, and keep moving forward.