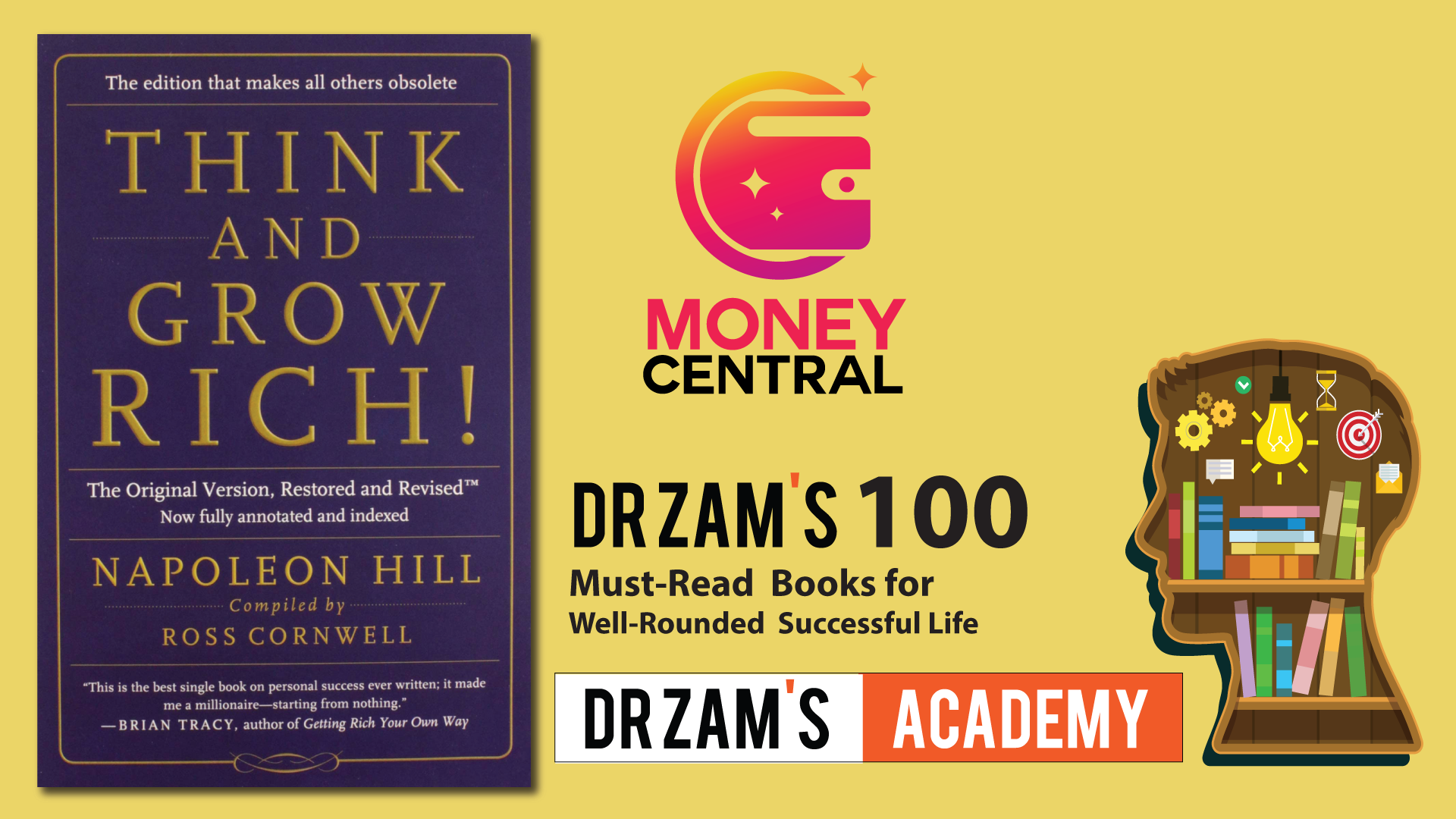 In the quest for financial success and independence, one book stands as a beacon of wisdom and practical advice – "Think and Grow Rich" by Napoleon Hill. This motivational self-help book, based on Hill's 25 years of research and interviews with over 500 wealthy individuals, offers a roadmap to financial prosperity. It presents actionable steps and principles that can help anyone manifest their desires and financial abundance. If you haven't read it yet, you can get your copy here.
At Dr Zam's Living®, we believe that financial health is a crucial component of a balanced and fulfilling life. This is why we have created Dr Zam's Money Central™, a trusted resource for everything you need to know about money, financial literacy, and financial management. Our aim is to empower you with the knowledge and skills to make informed and effective decisions with all of your financial resources.
Let's explore how the principles of "Think and Grow Rich" align with the resources and services offered by Dr Zam's Money Central™.
Desire and Goal Setting
Hill emphasizes the importance of having a strong burning desire to achieve wealth. He suggests creating a definite goal and committing fully to its achievement. At Dr Zam's Money Central™, we provide practical guidance on managing your money effectively, helping you set clear financial goals and strategies to achieve them.
Faith and Self-Belief
Belief in oneself is the first step towards wealth. Dr Zam's Money Central™ aims to empower you with financial literacy, boosting your confidence in making financial decisions and reinforcing your belief in your ability to achieve financial success.
Specialized Knowledge and Continuous Learning
Hill stresses the importance of continuous learning and refining skills to become an expert in one's chosen field. Our resources cover a wide range of topics, from essential money management and budgeting to investing and retirement planning, providing you with the specialized knowledge you need.
Mastermind Alliance
Hill stresses the advantages of surrounding oneself with like-minded individuals who share common goals. By joining Dr Zam's Money Central™ community, you become part of a supportive network of individuals committed to financial health and success.
Financial Wellness
We believe in the importance of financial wellness as part of a holistic lifestyle. Financial wellness is about having financial security and freedom of choice, both in the present and the future. We provide resources and tools to help you assess your financial wellness and make improvements where necessary.
In conclusion, "Think and Grow Rich" offers readers a comprehensive guide to transforming their thoughts and actions, providing practical techniques and principles for achieving financial success and prosperity. Dr Zam's Money Central™ complements these principles by providing the resources, tools, and community you need to take control of your financial health today. Remember, financial health is not just about money—it's about having the freedom to live the life you want. Start your journey to financial freedom today by getting your copy of "Think and Grow Rich" here.
𝗖𝗼𝗻𝗻𝗲𝗰𝘁 𝘄𝗶𝘁𝗵 𝗨𝘀!